The Church of Our Lady of Ocotlan in Tlaxcala is ranked among the most beautiful in the Americas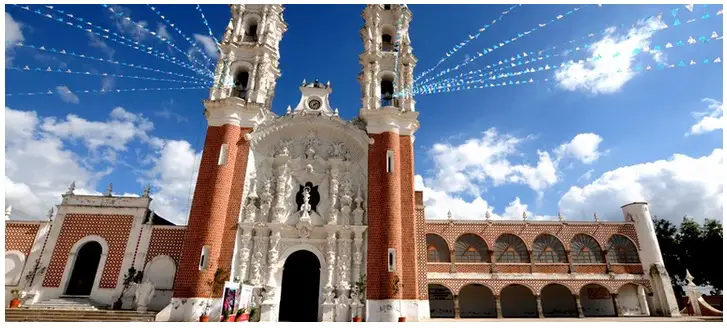 The Sanctuary and Basilica of Ocotlán is a building located in the municipality of the same name in the state of Tlaxcalavery close to Mexico City.
According to National Institute of Anthropology and History (INAH)it is one of the most beautiful churches in the Americas.
The small chapel of the Virgin was made by the native artist Francisco Miguel between 1718 and 1720.
He dedicated himself to work in thanks to the deity, as it had saved him from an accident.
The Baroque altarpieces of the Sanctuary and Basilica of Ocotlán in Tlaxcala (Photo: Facebook/Basilica of Our Lady of Ocotlán, Tlaxcala)
---
The origin of the cult of Virgin of Ocotlan dates back to 1541 when the deity is believed to have appeared to the Indian Juan Diego Bernardino.
The legend says that the virgin made a source of healing water germ that wiped out the plague, a dangerous disease of the time.
Moreover, the Virgin told Juan Diego that he would find an image of her in a coquettish and that she wanted this tree to be in a chapel which was on the hill.
After the experience of Juan Diego, this virgin was venerated until 1670 when the temple was builtwhich still exists.
Dome of the Sanctuary and Basilica of Ocotlán in Tlaxcala (Photo: instagram/@inahmx)
---
In 1750, Manuel Loayzagawho was a priest of the sanctuary, describes the dome of the chapel as an "admirable machine" and a "Heaven of flowers or Paradise of lights".
"Globe (…) similar to the firmament; for all this, by its clarity and luminosity, is a string of stars", said the chaplain in 1750.
The dressing room dome is full of polychrome carvings, with the Pentecost scene finishing the center of the vault and reliefs of Marian doctors and archangels on the cornices.
This large shell-shaped arch is supported by tall towers, in which the "estípite pilaster" was used, that is, an inverted truncated pyramidal column.
The altarpieces have the Virgin of Guadalupe and the Virgin Mary in her image from Ocotlán come from the 1770s, due to the development they present, according to the historian Francois de la Maza.
The Church of Nuestra Señora de Octlán (Photo: facebook/Basílica de Nuestra Señora de Ocotlán, Tlaxcala) houses one of the most impressive representations of Baroque art.
Moreover, the altarpieces are full of exaggerations baroque type decorationswith small angels, crowns, flowers, mirrors and scrolls.
In his case, that of the Virgin of Guadalupe is framed by an arch with Latin script Non fecit talier omini nationi, which means "He did no such thing to any other nation".
Likewise, the basilica stands out for its beautiful facade and is one of the the most important Marian pilgrimage centers in Mexico.
Source: INFOBAE
Tlaxcala post
---
Related