"Philadelphia Church's Hearts Go Out to Ukraine" at Liturgies and Prayer Gatherings – Catholic Philly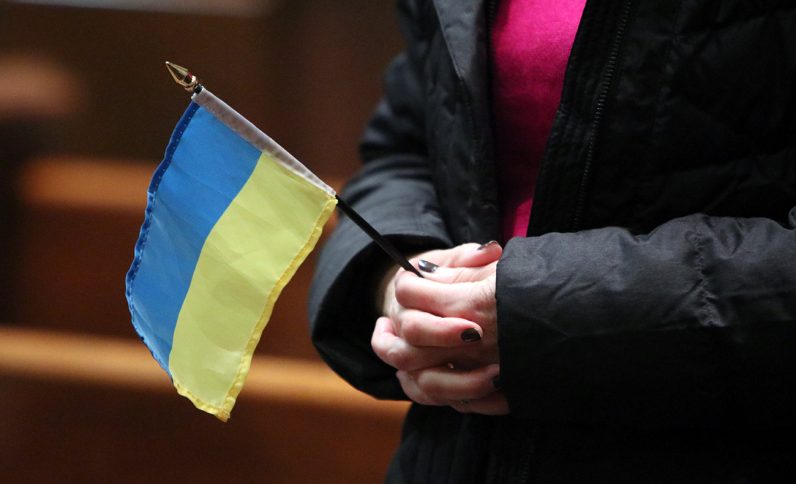 By Gina Christian • Published on February 28, 2022
As Russian forces continue to attack Ukraine on multiple fronts, people from several religious communities came together last weekend to pray for peace.
On February 27, Bishop Nelson Pérez celebrated Sunday Mass scheduled for 11 a.m. at the SS Cathedral Basilica. Peter and Paul for Ukraine.
"The heart of the Church of Philadelphia goes to the heart of the Ukrainian people," he said in his homily.
That same morning, Archbishop Borys Gudziak, head of the Ukrainian Catholic Archeparchy of Philadelphia, called for prayer, awareness and humanitarian aid for Ukraine in his homilies at the Cathedral of the Immaculate Conception. in the northern liberties section of the city.
"Miracles are possible," said Bishop Gudziak, who had returned hours earlier from a series of ecclesiastical and diplomatic meetings in Ukraine, Rome and Paris.
On Sunday afternoon, the two archbishops joined the Reverend Glenn McDowell, pastor of Liberti River Wards Church; Rabbi David Straus, chief rabbi of the Main Line Reform Temple in Wynnewood; and other members of the Council of Religious Leaders and Interfaith Philadelphia for Vespers at the Cathedral of the Immaculate Conception.
Attended by some 130 people, the service – and the liturgies that preceded it – coincided with "Forgiveness Sunday", which Catholic and Eastern Orthodox traditions mark just before Lent. The observance, which invites the faithful to seek reconciliation with God and with each other, took on new meaning amid the Russian invasion of Ukraine.
"That's the dilemma…how to find the courage to forgive your enemy," Father Roman Pitula, rector of the Cathedral of the Immaculate Conception, said in his homily during the February 26 vigil liturgy. "That's what Jesus asks us to do. … It's easy to talk when there is peace, when everything is normal. … How can I forgive (when) people go to shelter in the subway… when babies are born in the subway instead of the hospitals, because the hospitals are destroyed? How can I forgive when… children are killed (and)… kindergartens are bombed, bombed and destroyed?
The attacks have caused more than 500,000 refugees to flee Ukraine, a number which the United Nations estimates could quickly rise to four million.
Others remain trapped in Ukraine, including Father Volodymyr Radko, a graduate of St. Charles Borromeo Seminary in Wynnewood. The Ukrainian native, ordained just two weeks ago by Archbishop Gudziak in Lviv, is currently unable to return to his US priestly mission due to massive delays at Ukraine's borders.
"He spent a night and a half day at the Polish border, trying to get home," Bishop Gudziak told the congregation. "He walked 10 miles to the border, passing cars full of families with young children, breastfed babies. Some of these families were walking because there was a 10 mile pile of cars heading towards the Polish border.
Yet "we cannot overcome evil with evil," Fr. Pitula said, but only "with goodness, with kindness."
He added that this practice extended even to Russian President Vladmir Putin, who last week ordered the invasion of Ukraine just eight years after annexing its Crimean peninsula and backing Russian separatists in its Donetsk and Lugansk.
While "Ukraine must defend itself", Archbishop Gudziak said he was also praying "for the conversion of Vladimir Putin".
Lent itself, which begins today for Ukrainian Catholics, reminds the faithful that they are "created to live eternally with God", and not "to cling to the treasure which is not eternal: our little passions, our little kingdoms, our little ambitions," said Bishop Msgr. Gudziak.
Referring to the Gospel passage of the day (Lk 6:39-45), in which Jesus teaches his disciples that a tree can be recognized by its fruit, Bishop Pérez said that the crisis in Ukraine shows "what happens when a tree is not planted and rooted in the right place…and this has incredible consequences for humanity.
The "ultimate place" to put down roots is in Christ, he said.
Mikhail and Lilia Bokarev, parishioners of St. Michael the Archangel Ukrainian Catholic Church in Jenkintown, are working to do just that, even as loved ones in Ukraine seek protection from Russian attacks.
On his way to the 11 a.m. mass celebrated by Bishop Pérez, Mikhail Bokarev said he tried to call a friend who "was on his way to a bomb shelter" as the air sirens sounded.
"We hope this will all be over soon," he said. "We give thanks for the prayers and support."
Lilia Bokarev said she "tried to text relatives in Kyiv" that morning, but "they didn't respond. Yesterday they said they were fine. Today, I don't know.
Ukrainian-born Alexandra Kuzyk, who with her husband attended a 9am liturgy at the Cathedral of the Immaculate Conception, admitted she was "overwhelmed with what is happening" there now.
"We know the people there need everything we can give them – our support, our prayers, everything," she said.
For this reason, Terry Guerra, a parishioner of St. John the Evangelist and a Secular Franciscan, also attended the same liturgy at the Cathedral of the Immaculate Conception.
Images of Ukrainian resistance to Russia reminded Guerra of the 1986 People Power Revolution in his native Philippines, when after nearly two decades of corruption and brutality, authoritarian leader Ferdinand Marcos and his wife Imelda were overthrown by over a million protesting Filipinos.
"I lived it, just before I came to the United States," Guerra said, wiping away tears after the liturgy. "I stand in solidarity with Ukraine."