Ndingi Mwana a'Nzeki will be buried in the Basilica of the Holy Family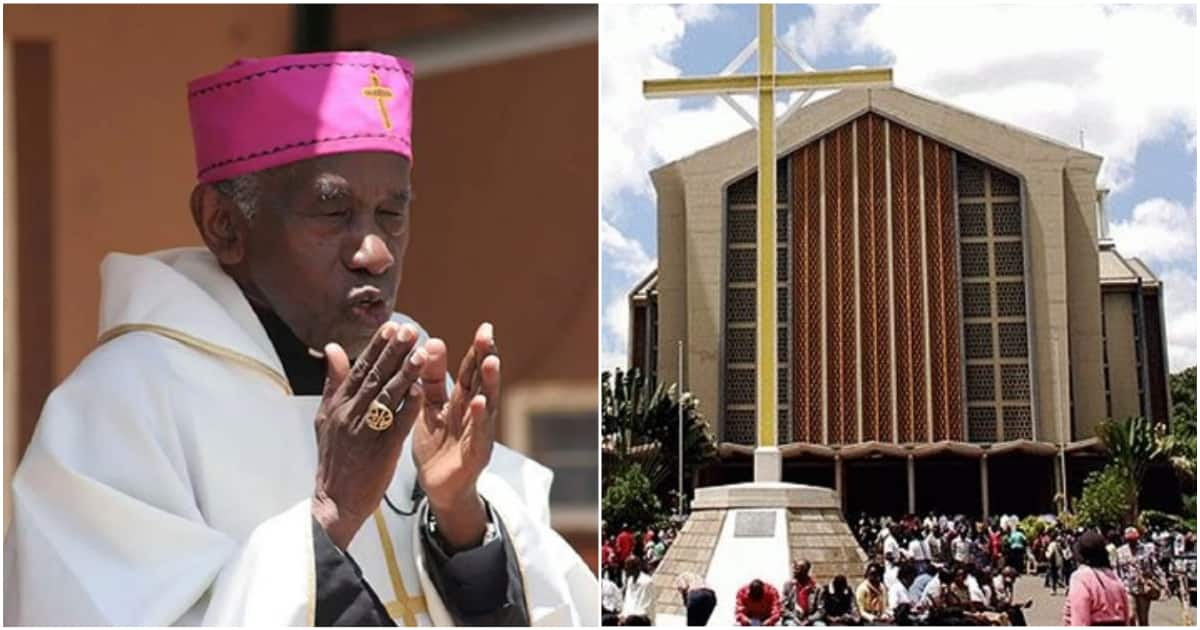 [ad_1]
– The late Archbishop Ndingi Mwaana a'Nzeki will be buried in the crypt in the basement of the church on Tuesday, April 7, in a private ceremony
-Ndingi will be the second archbishop to rest at the special place of the church
– The late Archbishop Emeritus John Njenga was the first person to be buried in the crypt in November 2018
Retired Archbishop Raphael Ndingi Mwana'a Nzeki, who died Monday March 30 following a long illness, will be buried in the Holy Family Basilica.
The late archbishop who had invested a lot in education will be buried in the crypt in the basement of the church on Tuesday April 7, in a private ceremony.
ALSO READ: COVID-19: Michelle Obama Celebrates Healthcare Workers Who Put Their Lives on Risks to Save Others
READ ALSO: 10 beautiful photos of Kenya patient Brenda who recovered from COVID-19
The burial will be in keeping with long-standing traditions of the Catholic Church, one of them being cathedrals around the world having crypts containing the remains of their bishops and cardinals.
In the book, Making Sense of Saints: Fascinating Facts About Relics, Patrons and Canonization, author Patricia Kasten writes that the first churches were built directly on the graves of the martyrs.
Over the years, there has been a close relationship between the remains of saints and martyrs with the physical structure of the cathedral.
READ ALSO: Police gun down reconnaissance officer leading gang of thieves in Bungoma
In 787, the Second Council of Nicaea, a Catholic meeting, decreed that all new churches would be built with relics of saints placed inside altars.
Saint Peter's Basilica in the Vatican, capital of the Catholic Church, is often referred to as a necropolis.
Bones and human remains were found in several hollows in the foundation of the basilica.
READ ALSO: Man who peddled candy to cure sick mother opens bigger business after TUKO.co.ke highlights his plight
The most notable of these are the bones which are said to belong to the biblical Simon Peter, one of the disciples of Jesus Christ, and who is considered by the Catholic faithful as the first pope.
Ndingi will be the second Archbishop to be buried at the special place of the Basilica Church of the Holy Family.
The late Archbishop Emeritus John Njenga was the first person to be buried in the crypt in November 2018.
READ ALSO: Politician Suleiman Shahbal pledges to contribute KSh 50,000 towards the tuition of a nice policewoman
The Archbishop will be remembered for his struggles for political reform in Kenya in the 1990s.
With election-related ethnic clashes in 1992 killing hundreds in the Rift Valley, Ndingi told then-president Daniel arap Moi to stop his government's wrongdoing.
The Archbishop was born on December 25, 1931 in Machakos County, studied in a seminary in Tanzania, and was subsequently ordained a priest of the Archdiocese of Nairobi in 1961.
READ ALSO: Star Wars actor Andrew Jack dies of coronavirus
In 1969, Pope Paul VI appointed him bishop of the diocese of Machakos where he served until 1971.
In 1972 he was transferred to the Diocese of Nakuru where he served until 1996.
The same year, he was appointed coadjutor of the Archdiocese of Nairobi, as assistant to Cardinal Maurice Otunga.
Do you have a groundbreaking story that you would like us to publish? Please contact us via [email protected] or WhatsApp: 0732482690. Contact Tuko.co.ke at once
Subscribe to watch new videos
Source: Tuko
[ad_2]