Bishop Bartosic Revisits His Acting Roots at St. Gregory's Church – Chicagoland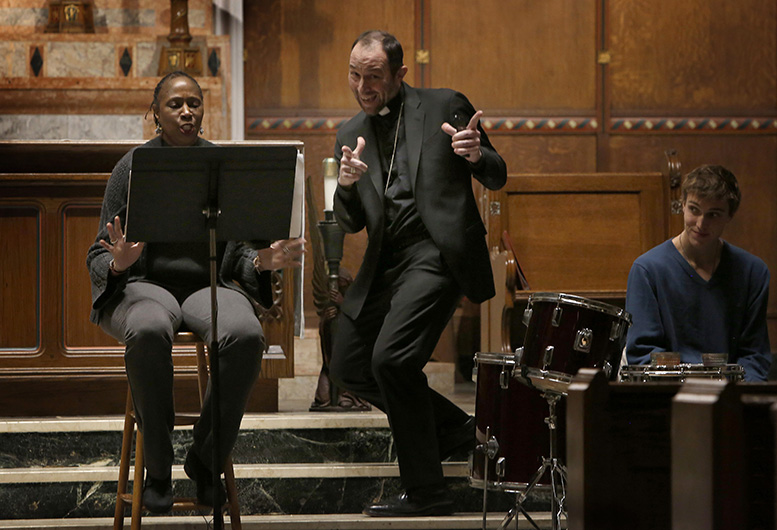 When Auxiliary Bishop Mark Bartosic entered the priesthood, he left behind his professional acting days. But on February 8, he revisited his acting roots in the performance "Broken Fount: The Letters of Abelard and Heloise" at St. Gregory the Great Church, 5545 N. Paulina St.
Abelard and Héloïse were famous lovers and medieval scholars of the 12th century. Bishop Bartosic portrayed Abelard, reading from a podium at the front of the church. Actress Jennifer G. Smith performed as Héloïse, and musical group The Slaps provided instrumental breaks. The show was part of the parish's arts evangelism ministry, which began more than 18 years ago. Under this program, artists have space on the church campus and offer programs and performances to the parish and community.
"It has now become one of the pillars of St. Gregory the Great Church – reaching out to the community through this evangelism, showing the beauty of God, the beauty of holiness, but without proselytizing. Just allowing artists to come in and show the beauty of God through the different disciplines of their different arts," said Joe Malham, an iconographer who has been artist-in-residence since 2001 and who convinced Bishop Bartosic to return to the stage.
Malham creates icons and offers courses to the public.
"When people hear the word 'evangelism' they want to turn around and run as far as they can because they think there's going to be a lot of beatings to the head with Bible quotes. But it's actually showing people the beauty of everyday life, whether it's writing, music, visual arts," he said. "That's what we tried to do."
Bishop Bartosic selected the material and edited it for performance, and Malham handled the music and publicity.
"It's really cool to see a bishop, a professional actress and these three young men from DePaul – professional musicians – all coming together from different backgrounds and trying to find this kind of sacred synthesis of their art, to achieve the same goal. , who honors God through the gifts and talents given to them," Malham said.
Bishop Bartosic said when Malham approached him with the idea, it took some getting used to. Ultimately, he saw an opportunity to shine a light on the parish's unique ministry.
"As vicar of Vicariate II, I thought it was a great place to do something like this. I was happy once I overcame initial resistance to the idea," he said. "I think there's a tremendous spirituality to the arts, and we don't always find ways to bring very creative people into the life of the church."
Arts and faith have a natural relationship, he said.
"Everything that is beautiful comes from God. God is beauty. God is clarity. He is brilliant. But God is also real. Whenever we can make a person's heart resonate with what is beautiful and true, I think we are bringing someone to them," Bishop Bartosic said ahead of the show. "I think there is both beauty and tremendous truth in this play tonight. I think we would all recognize ourselves a little in Abelard and Héloïse.
Bishop Bartosic does not regret his decision to leave the theater and become a priest.
"I really wanted to find something worthy of laying down my life. It's not that acting isn't it, but it wasn't for me," he said. "I never looked back."
Kerry Reid is a parishioner of St. Gregory the Great and attended the show to support the parish community.
"I loved it. It was a surprising and wonderful theatrical experience," she said. "Above all, seeing our bishop in that role was really delightful."
Parishioner Eric Heath agreed.
"My family has participated in many arts evangelism programs over the years. That was one of the things that drew us to this church to begin with, the focus on the arts and finding common ground between art and faith," he said. . "I think it's a perfect example of tonight. It was complicated but beautiful, like life.